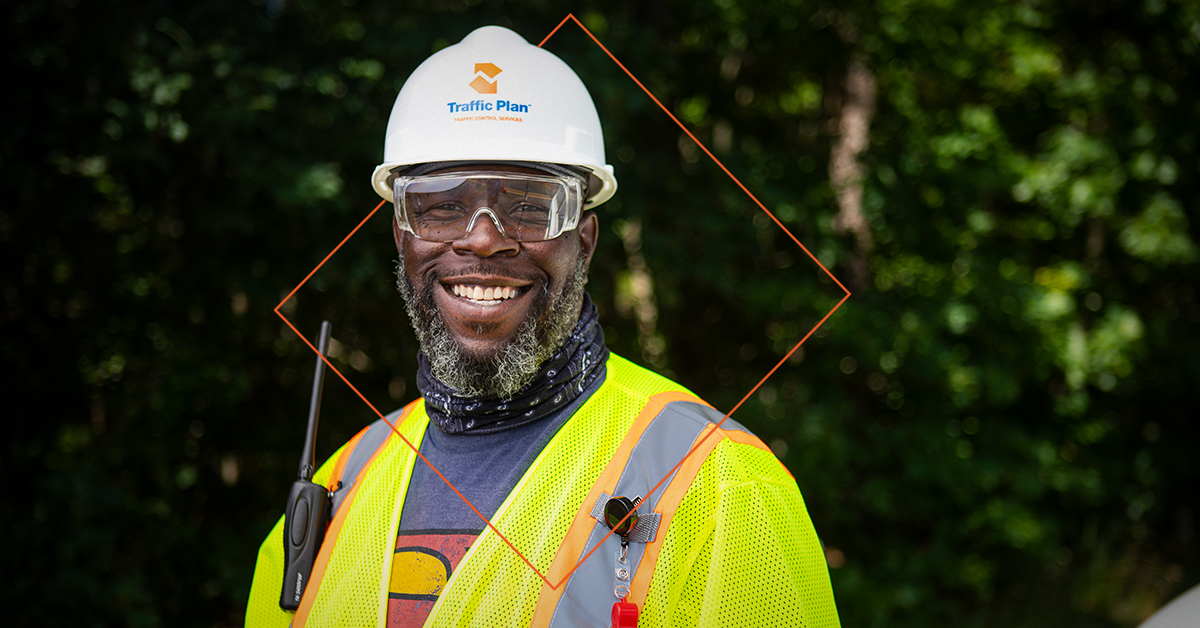 Alfonso works out of our Egg Harbor, NJ office. It was a pleasure getting to know him better recently.
How long have you been with Traffic Plan, and what's your role? 
I joined the team on December 23, 2019. My role as Crew Chief is to first maintain a professional and safe work experience. Secondly, I'm a teacher, and my role as a teacher is to help my crew understand how to safely set up different traffic scenarios to help ensure that those on the main line, as well as pedestrians, are safely protected.
What made you want to join Traffic Plan?
It's not the boy-meets-job love story you might be thinking. I found myself suddenly in need of a job — and fast! Long story short, I was laid off from a previous company and was fortunate enough to have someone there admire my work ethic and refer me to this amazing company.  I've always loved doing traffic, and heard some great things about Traffic Plan, so it was no question that I wanted to join the team.
What has your progression at Traffic Plan looked like? At what position did you start?
I was brought on as a flagger and was quickly promoted to Crew Chief a month later. It has been such a pleasure to be recognized by Traffic Plan for my hard work in such a short period of time. Traffic Plan not only noticed my hard work but has provided me with great incentives.
Where do you see yourself at Traffic Plan in the future?
I would hope that in the future, Traffic Plan will continue to value my work ethic and one day promote me to Supervisor over a whole team.
What is your favorite thing about Traffic Plan?
I love the attention Traffic Plan has shown me for my hard work and dedication. I must admit that having my own company vehicle and petrol card is also kinda bada$$, but I also love the people I work for. Traffic Plan has shown me that not only do they value hard work, but they work just as hard to show you their appreciation for it.
What's your favorite part of your role?
My favorite part of this position is the trust placed in me to keep these guys safe. I enjoy being meticulous in my setup, and the response I get from my superiors for a job well done is awesome. I'm responsible for people's safety and well-being, and I don't take that lightly. Whether they're down in a hole or up in a bucket, they can take comfort in knowing that the scene that's been set up for them is one that will ensure maximum safety for motorists and workers alike.
What does home life look like for you?
All family, all the time. I have a beautiful wife of almost 12 years. I have 3 daughters and 2 sons — ages range from 30 to 3 years old. I also have 5 grandkids who put a nice bow on the whole family package. Family is the best thing I've got going.
What do you like to do outside of work?
I have three daughters and a wife. That right there is enough to keep a man plenty busy, and I thoroughly enjoy keeping a smile on their faces.
Do you have any advice for anyone who's new to the team?
What's worth doing is worth doing well, and you must have a desire to do well. Pay close attention. Don't hold back if you have questions. Assume nothing. These things may be a bit cliché, but in this line of work, they may very well save a life!