Traffic Plan stands at the forefront of progress, keeping our world mobile and our customers and communities safe. We're an organization united in our purpose to create a culture of inclusion, support and superior service. When you're a Traffic Plan employee, you're family.
• Year-Round Full-Time/ Part-Time Work
• Paid Healthcare Premiums
• Paid Training
• Bonus Incentives
• Opportunities for Advancement
As a Traffic Plan employee, you will receive:
Traffic Plan Office Locations
PENNSYLVANIA
Recruiter: Karen Anderson – 848-207-9694
Bethlehem
6324 Winside Drive, Bethlehem, PA 18017
King of Prussia
510 Hertzog Blvd, King of Prussia, PA 19406
Grantville
10070 Allentown Blvd, Grantville, PA 17028
New Columbia
901 Old Rt. 15, New Columbia, PA 17856
Scranton
1500 N Keyser Avenue, Scranton, PA 18504
Stevens
1782 Reading Road, Stevens, PA 17578
MARYLAND
Recruiter: Lauren Stabinski – 732-333-7173
Annapolis Junction
9090 Junction Dr, Suite 6, Annapolis Junction, MD 20701
NEW JERSEY
Recruiter: Christina Matthews – 848-305-4283
Egg Harbor
20 Adams Road, Egg Harbor Twp, NJ, 08234
Tuesday – Thursday | 11:15am – 1:00pm
Farmingdale
5300 Asbury Road, Suite A, Farmingdale, NJ 07727
Tuesday – Thursday  |  10:00am – 12:00pm
Glassboro
530 Ellis Street, Glassboro, NJ 08028
Tuesday & Thursday | 11:30am – 1:00pm
VIRGINIA
Recruiter: Lauren Stabinski – 732-333-7173
Chesapeake
2601 D Trade Street, Chesapeake, VA 23323
Stafford
3248 Jefferson Davis Hwy, Stafford, VA 22554
FAQs
Here are a few frequently asked questions we hear from job applicants:
Where Are Your Jobs Located?
We service customers throughout the Mid-Atlantic region. Our offices are located in New Jersey (Central, Northern, and Southern NJ); Pennsylvania (Eastern, South Eastern, South Central, and Central PA); Eastern MD, and Virginia (South Eastern and Northern VA).
How Do I Apply?
There are many convenient ways to apply. You can apply online. You can also visit any Traffic Plan office during certain hours and complete a paper application. We participate in career fairs throughout the area and we also hold open houses at our own offices. Contact us for details.
Why Do I Need a Driver's License?
You will need a valid driver's license and reliable transportation in order to work at Traffic Plan. Why? Because you're responsible for transportation to your assigned work site – which will likely be a different location each day. Many of our sites are not accessible by public transportation.
How Long Does the Hiring Process Take?
Our hiring process takes about 2 weeks. After submitting your application, you should hear from our team within 1-3 days. Interviews are conducted each week. If you meet the requirements, you'll be hired and receive paid training. Then you'll be assigned to your first Traffic Plan work site.
What Kind of Training Will I Get?
All Traffic Plan employees receive comprehensive classroom and on-the-job training through our very own Progress Institute. Under the guidance of our expert trainers who have decades of industry experience, you'll learn about directing traffic safely, protecting our customers, and handling emergency situations. We train you to be the best at what you do – and you'll be paid while you learn.
When Do My Benefits Kick In?
Benefits for union employees begin 90 days after your start date. Benefits for management hires begin on the 1stof the month after 30 days of employment.
Our Internal Newsletter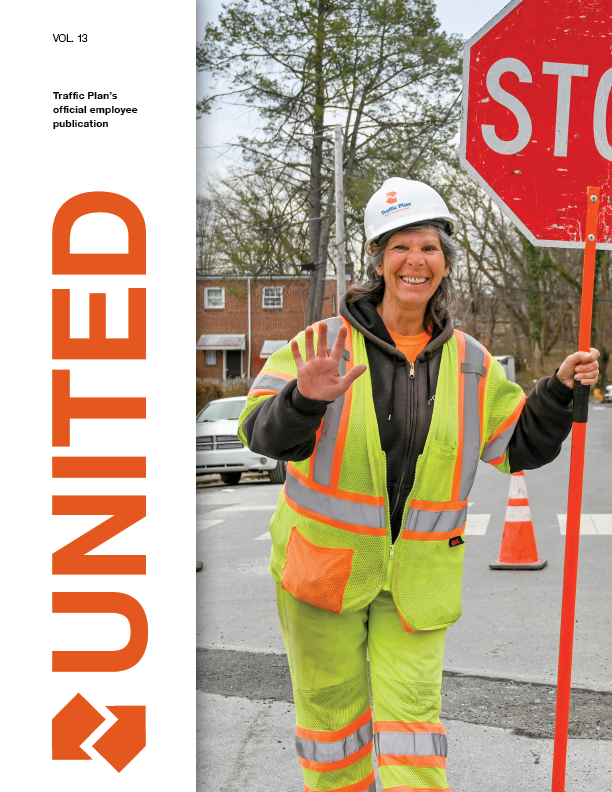 United Newsletter: Vol 13
The thirteenth volume of Traffic Plan's quarterly employee publication, United, is now available! We hope you enjoy this volume of United. If there are any topics you would like to see us cover, please reach out to us. Read the Latest Issue