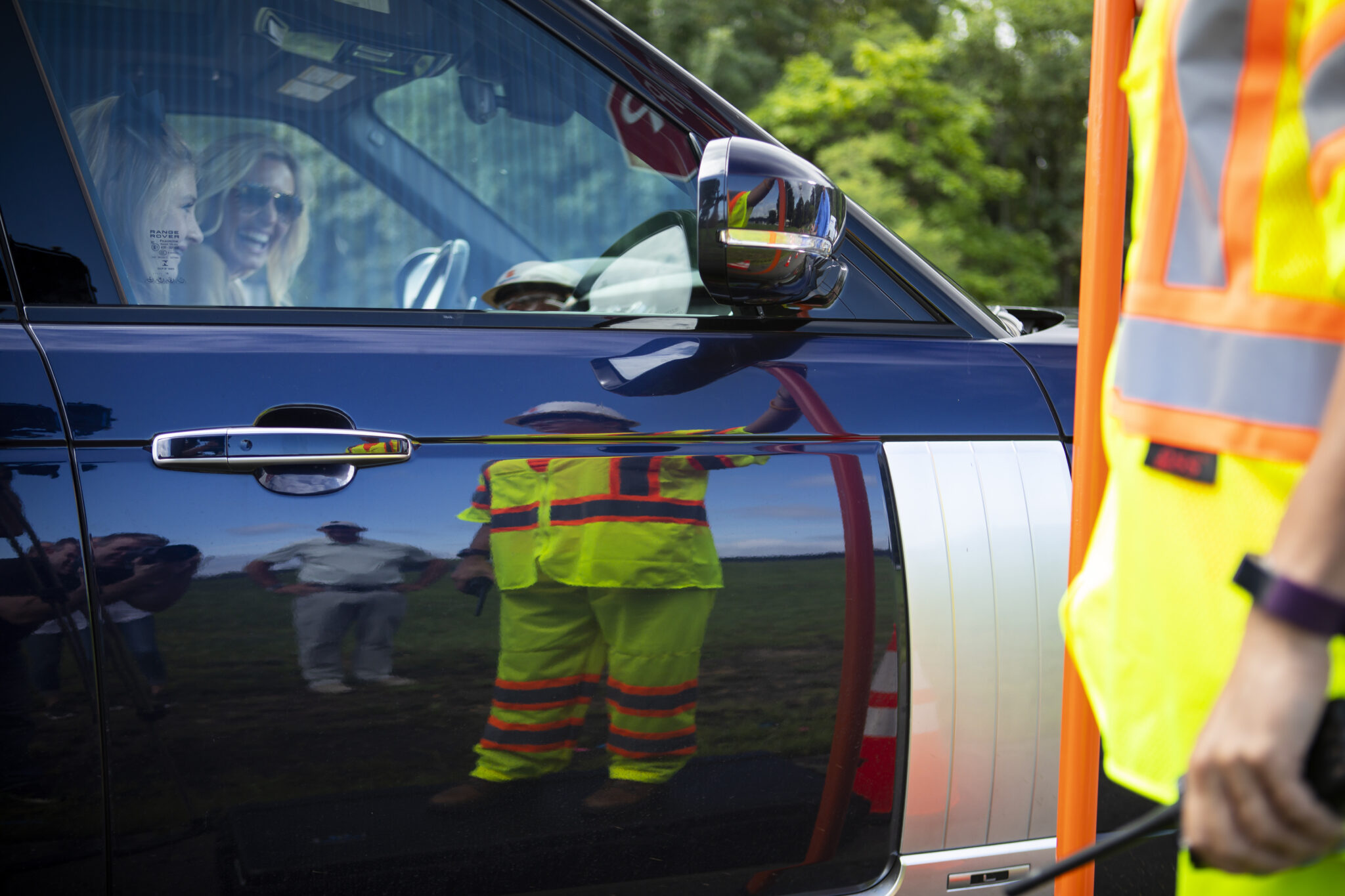 The weather is warming up and it's the first time in a while that life is feeling "back to normal" for many. And even though the price of gas is high right now, that won't stop people from planning fun spring and summer getaways to celebrate.
So let's hit the road and appreciate the highway systems that Traffic Plan teams work hard to keep safe. Here are some of our favorite driving destinations located near Traffic Plan's 12 regional offices throughout New Jersey, Pennsylvania, Maryland, and Virginia.
New Jersey
If you live within driving distance of the Garden State, you've probably been "down the shore" at least once or twice, and with good reason. There's a lot to enjoy along the 130 miles of the Jersey coast, and each beach town has its own personality.
The old Victorian charm of Cape May, the southernmost point on the Jersey shore, makes it a favorite New Jersey driving destination. Here you'll find many Victorian-era bed-and-breakfasts and quaint shops along the pedestrian-friendly cobblestone streets of Washington Street Mall. Don't miss other popular spots like the Cape May Winery, Cape May County Park and Zoo, and the famous Lobster House restaurant, which overlooks Cape May Harbor.
For a family-friendly destination in the Southern Shore region of NJ, head to Ocean City — named the #1 family beach community in the country by the Travel Channel. In OCNJ, you can experience eight miles of beaches and over two miles of boardwalk, featuring the popular OC Waterpark and Gillian's Wonderland Pier. And there's plenty of family fun beyond the boardwalk all season long, including boating, fishing, golf, tennis and water sports, and plenty of indoor activities for rainy days.
Ready for more coastal sights? Head about one hour north and visit Long Beach Island. The 18-mile barrier island, commonly called LBI, offers an eclectic mix of small beach towns and villages. Beach Haven, on the southern end of the island, offers lots of activities like amusements parks, a theater, and many popular bars and restaurants. If you're looking for a calmer vibe, visit the Barnegat Light area on the island's northern tip — with hiking, fishing, and natural wildlife. Other towns you can check out in LBI include Harvey Cedars, Long Beach Township, Ship Bottom, and Surf City.
For those looking to enjoy some good music and libations, a stop in Asbury Park is a must. This unique beach town is located in the northern part of NJ and may be best known for the Stone Pony, the legendary music club where Bruce Springsteen and Bon Jovi got their start. A visit to Asbury Park should include a stop at the 1920s-era boardwalk and the fun Silverball Museum retro arcade, featuring an incredible 600 pinball and video games.
Click here for an A–Z list of all the New Jersey beaches you can explore this travel season.
Pennsylvania
Want to take in some history, amusements, and amazing shopping? Then don't miss these popular travel destinations in Pennsylvania.
Learn about some of the biggest events in US history in the Historic District of Philadelphia. See the Liberty Bell, located at the Liberty Bell Center on Independence Mall. Visit the birthplace of the Declaration of Independence and the US Constitution at Independence Hall and Congress Hall. Walk a few blocks to Arch Street and tour the Betsy Ross House, birthplace of the American flag and home to one of America's most recognized seamstresses. You might want an extended stay in the city since there is so much to discover. Check out more must-see Philly attractions here.
Ready to shop and empty your wallet? You'll find the largest shopping mall in PA about 20 miles northwest of Philadelphia in King of Prussia (home of Traffic Plan's Progress Institute, where our employees receive the latest in safety training from our certified instructors). The King of Prussia Mall boasts over 450 stores and 30+ restaurants, with many high-end retailers, including Gucci, Cartier, Louis Vuitton, Hermès, Neiman Marcus, Nordstrom, and many more.
If you're an amusement park enthusiast, you should head north from King of Prussia and spend a day at Dorney Park & Wildwater Kingdom in the Lehigh Valley. This family fun park has been around since the 1860s and has gone through many transformations in its time. Today, the park has over 60 rides and many popular water attractions, including a wave pool and lazy river. Looking for more amusement fun? Check out Knoebels Amusement Resort in Elysburg and, of course, Hersheypark in Hershey, PA — both about a 90-minute drive from the Lehigh Valley.
If you want to take a peaceful drive through the scenic countryside, head to Lancaster County, where you'll find one of the country's oldest Amish communities. From gourmet dining to incredible theaters to antique shopping and covered bridge tours, you can experience a little bit of everything in the county's most popular towns, including Lancaster city, Strasburg, Bird-in-Hand, Lititz, and Ephrata. Explore Lancaster County's regions and attractions here.
Maryland
One of the most well-known spots in the Old Line State is the city of Baltimore, a very popular day-tripping destination for people from Delaware, southern Pennsylvania, and other parts of Maryland.
If your travels take you to Baltimore, a must-do is Inner Harbor. There's practically nothing you can't do here! You'll find floating museums on historic ships and one of the nation's top children's museums. There's also the Maryland Science Center and the award-winning National Aquarium, where you can see over 20,000 different animals. Round out your visit with a ride on the harbor — take your pick from water taxis, paddleboats, or a chartered sailboat excursion. Learn more about everything Baltimore has to offer here.
Head 30 miles south of Baltimore for a visit to Annapolis, Maryland's state capital. This city is the perfect mix of old architecture and modern living. You can enjoy events year-round, but the spring and summer months offer even more fun activities and events. Explore Main Street, Eastport, the Arts District, and City Dock & Ego Alley. And don't miss a visit to the United States Naval Academy, which is open to the public, with guided tours also available.
Virginia
Traffic Plan has two offices in Virginia, one in the northern part of the state, in Gainesville, and one in the southern part of the state, in Chesapeake. Both regions offer plenty of unique destinations for the young, young at heart, singles, couples, and families.
Less than an hour from Gainesville is Washington, DC, home of the US capital, where you can enjoy endless museums, monuments, parks, tours, and dining experiences.
Halfway between Gainesville and Chesapeake, you'll find the Richmond region, with plenty of opportunities to enjoy the great outdoors, from rafting and running to biking and hiking. You'll also find many year-round events, over 900 restaurant spots, and plenty of downtown hotels for an extended stay.
Last but not least, head south to Chesapeake in the heart of coastal VA. The city has over 20 miles of waterways and many outdoor recreation opportunities, from fishing and kayaking to birding and golfing. Head just 30 minutes west and you'll arrive at Virginia Beach, where you'll find top attractions like a three-mile boardwalk, the Cape Henry Lighthouse, and the Virginia Aquarium & Marine Science Center. Check out more places to visit in VA by downloading the state's official travel guide.
Inspired yet? Hit the road! But remember, safety first. Buckle up and avoid distractions, like cell phones, while you're driving. If you encounter a work zone, slow down and pay attention to flaggers and signs.
Traffic Plan is proud to keep the motoring public safe on their journeys every day. Here's to many happy travels this spring and summer!