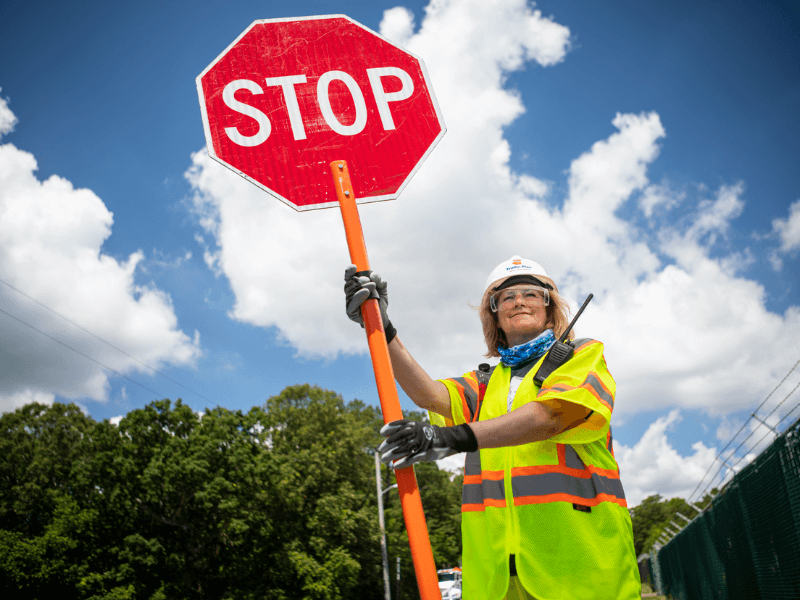 When people think of road flaggers, they may picture someone dressed in a neon suit standing along the side of the road and directing traffic — and it's true that traffic control is one of their main roles. But armed with confidence and a commanding presence, flaggers' larger role is to protect our clients and communities in work zones. They keep drivers moving in an orderly fashion, help pedestrians navigate safely through work zones, and protect construction and utility crews as they complete their projects.
Flaggers are trained professionals who do a variety of tasks that go beyond simply turning stop/slow signs. Not only do they manage traffic flow through job sites, but they also look out for and identify potential hazards, which helps to prevent accidents. Flaggers play an important role in helping our clients maintain and improve our nation's infrastructure too, ensuring their safety as they work on roads, bridges, and utilities. Here are just seven of the varied tasks flaggers perform each day.
Controlling Traffic – Relying on hand signals, flags, and other designated signaling devices, road flaggers control the flow of traffic through job sites to ensure safety and minimize congestion. They channel vehicles to the appropriate lanes, control intersections, and facilitate safe passage for motorists. Their thorough understanding of traffic patterns and regulations allows them to make quick decisions and protect work crews. Without flaggers, job sites on our roadways would be a dangerous and chaotic environment for travelers and construction personnel.
Managing Lane Closures – Another primary responsibility of traffic control flaggers is managing and overseeing lane closures. Before shutting down the lane of a road, flaggers install early warning signage and set up cones, barricades, or other channelization devices to guide drivers and ensure that everyone follows the designated traffic patterns. By strategically positioning themselves along the road, they are able to control the transition between open and closed lanes with ease. It's important that flaggers alert drivers to upcoming lane closures well in advance. By providing clear guidance, they help to create a safe and organized flow of traffic, which prevents accidents and minimizes congestion in work zones.
Ensuring Safety – Regardless of the individual tasks a flagger performs, their primary mindset is one of safety. While on the job, flaggers continuously monitor their designated areas for potential hazards, such as moving equipment, distracted drivers, or loose debris. They have been trained to react swiftly to any safety concerns, signaling drivers to slow down, stop, or take alternative routes to avoid dangerous situations. They also keep an eye on the movement of vehicles to make sure drivers follow traffic signs and navigate safely through work zones. Their speedy response to any potential problems creates a safer environment for everyone.
Communicating with Drivers – Effectively communicating with drivers is another critical component of a flagger's job. They use clear and concise instructions, hand signals, eye contact, and signs to ensure everyone understands and follows the traffic control measures in place. Flaggers alert the traveling public when to stop, proceed, or yield, and provide clear guidance on how to drive through a work zone safely. One of the key characteristics of a successful flagger is their ability to stay calm and patient, even in challenging situations. When inconvenienced by a work zone, some drivers can become impatient. Having a composed temperament allows flaggers to communicate with them effectively and promote a safe traveling environment.
Coordinating with Construction Crews – Road flaggers work closely with construction and utility crews, supervisors, and other workers on-site. Proper coordination ensures that the flow of traffic aligns with ongoing tasks. Flaggers communicate updates, changes in traffic patterns, and any potential safety concerns to help everyone's daily tasks work together seamlessly. By communicating clearly with everyone in the field, flaggers help to coordinate operations, allowing for efficient and uninterrupted progress on the job site.
Assisting Emergency Vehicles – In emergencies, flaggers play an important role in helping fire trucks, police vehicles, and ambulances move through work zones efficiently. It's vital for them to get through quickly, which is why flaggers are trained to handle a variety of scenarios involving emergency crews. They quickly assess the situation and respond by stopping traffic and creating a clear path. The timely actions of flaggers help emergency responders reach their destinations quickly, potentially saving lives in the process.
Monitoring Traffic Conditions – Traffic control flaggers must continuously monitor traffic conditions within their work zones. They assess traffic patterns, volume, and any potential issues that may affect the safety and efficiency of the area. When necessary, they report any problems to their supervisors or appropriate authorities. With on-the-ground knowledge, flaggers play an important role in helping their supervisors make informed decisions about traffic control measures and work zone safety.
Interested in a New Career?
At Traffic Plan, our flaggers do more than just move traffic along. They play a pivotal role in the progress of our communities, keeping our clients safe so they can focus on improving and maintaining our roads and everyday utilities, such as internet, water, electricity, and gas.
Whether you're looking for part-time or full-time work, Traffic Plan provides paid training to help you become the best at what you do. To find out more about our competitive pay, career growth opportunities, and comprehensive benefits, click here. Or, if you're ready to pursue a career as a flagger, check out our current job openings. We look forward to hearing from you!