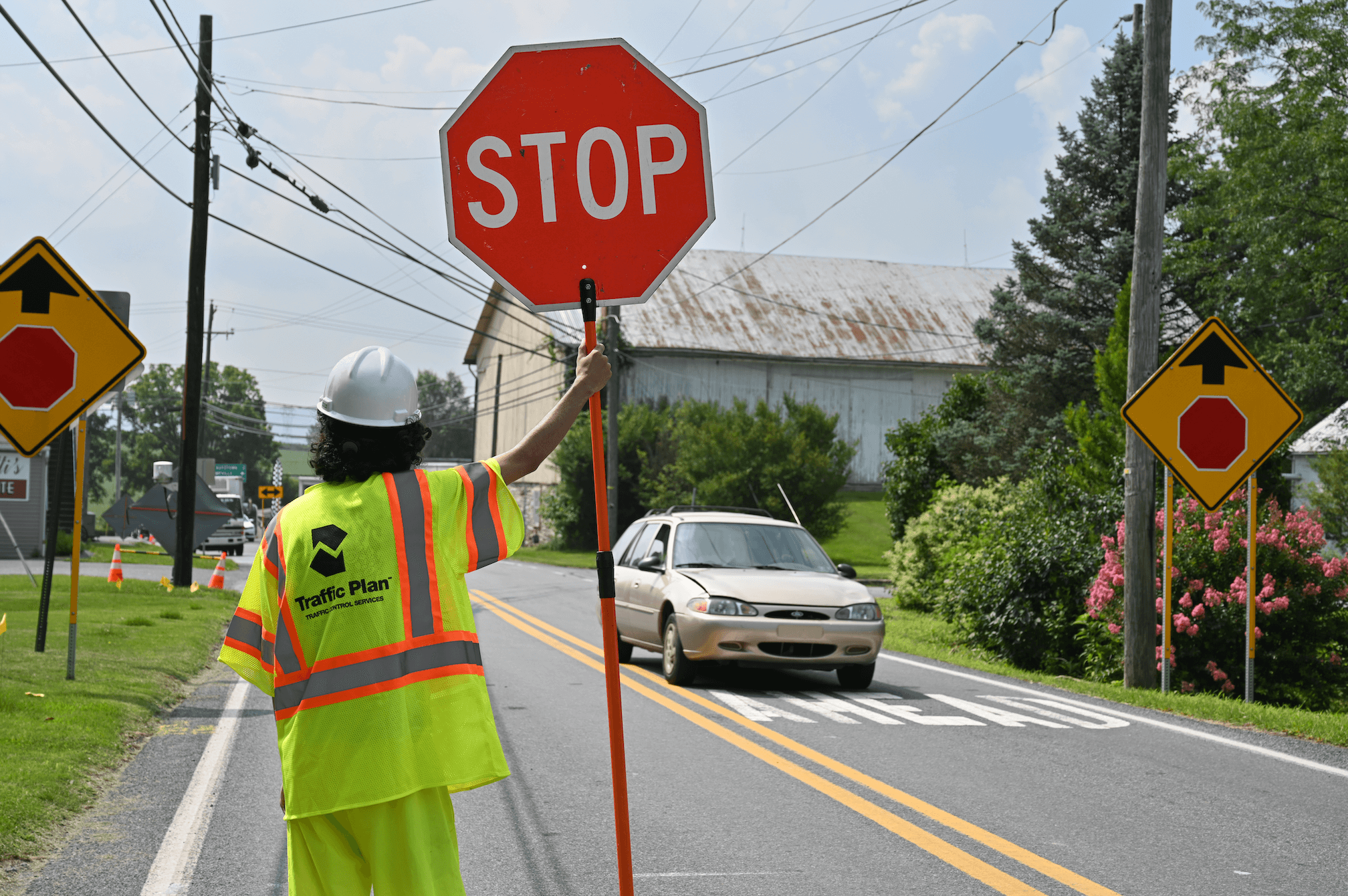 Not everyone is calm, cool, and collected behind the wheel. Unfortunately, aggressive drivers will always be a factor on roadways, and a mix of impatience and frustration can get the best of even the most cool-headed drivers, turning a heated moment into full-blown road rage.
One of the most important roles of flaggers is recognizing drivers' aggression and influencing their behavior to keep work crews, pedestrians, and the traveling community safe. By relying on a range of strategies to de-escalate tense situations and maintain control, flaggers help create a safer environment for everyone on the road — including aggressive drivers themselves.
Proactive Safety Measures
Taking a proactive approach to safety is one of the most effective ways flaggers can keep tense situations in check. Everyday work zone safety measures can help prevent the close calls and accidents that often lead to tempers flaring. Four common tactics are:
1. Wearing high-visibility attire and maintaining effective positioning along the roadway. This helps drivers easily see flaggers and their signs or signals.

2. Communicating clearly, using standard flagging signals, to inform drivers of upcoming changes in traffic patterns and road conditions.
3. Staying alert and being observant of approaching vehicles to spot trouble before it begins.
4. Using designated safety equipment, such as barricades, barriers, and safety trucks. These and other pieces of traffic control equipment move drivers through work zones safely and keep them a safe distance from work crews and pedestrians.
De-escalation Techniques
Even the best proactive approaches aren't always enough. In situations where a driver is behaving aggressively, de-escalation techniques are an effective way to defuse tension and regain calm on the roadways. Flaggers often employ the following tactics:
5. Remaining confident and unruffled when dealing with confrontational behavior. Becoming agitated or flustered tends to add fuel to the fire of an aggressive driver, so simply staying calm is often enough to keep tensions from rising.
6. Calmly acknowledging drivers' frustrations and using clear, polite, but firm communication to redirect them on their way.
7. Seeking support from supervisors or law enforcement if, despite a flagger's best efforts, an aggressive driver has gone too far and created a dangerous situation.
Stay Composed, Stay Safe
There are many necessary tasks flaggers perform each day, but limiting the effects of aggressive drivers is one of the most important. By helping to prevent tense situations, employing effective communication techniques, and remaining composed under pressure, flaggers maintain a safer roadway experience for everyone.
If serving the community and keeping it safe is important to you, check out our Careers page. Traffic Plan can help you begin a successful career with competitive pay, growth opportunities, comprehensive benefits, and the chance to make a difference every day. To learn more about our benefits and see our current job openings, click here.