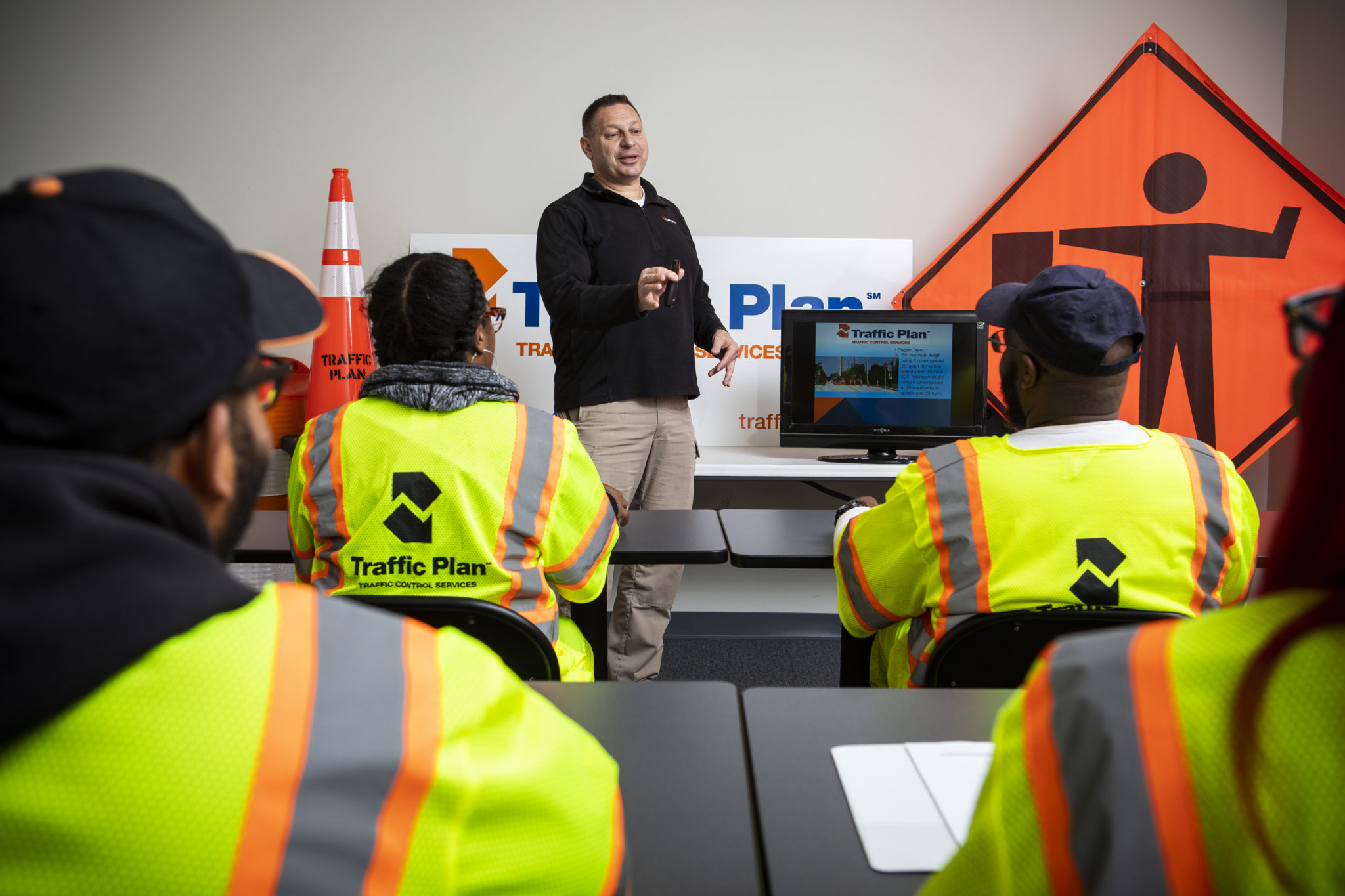 Since opening our doors in 2012, Traffic Plan has come a long way.
What started out as a company with one client, six employees, and three work vans has grown into a thriving organization with 550+ employees, dozens of clients, and more work vehicles and equipment than we can count.
There are many reasons for our success, and one of them is the Progress Institute—our safety command center where the entire Traffic Plan workforce is expertly trained in all facets of work zone safety.
Through classroom and hands-on schooling at our state-of-the-art learning facility, expert certified instructors train our teams to deliver the highest level of protection for road crews and the traveling public. For any new hire who will be hitting the roads for us, it all starts with Flagger Training.
What's a Flagger?
A Flagger is an important profession and a big part of most any work zone—the person you see holding a STOP/SLOW paddle or flag as you enter and exit a work zone area.
The lives of many depend on a Flagger—from the road crews and motorists to pedestrians and cyclists. They're responsible for stopping, releasing, and slowing traffic, and the training they receive helps prevent accidents and death.
ATSSA Standard Basic Flagging
Each new Traffic Plan hire who will be working on job sites must complete the American Traffic Safety Services Association (ATTSA) Standard Basic Flagging Certification course.
Employees complete the course at the Progress Institute with instructors who are ATSSA certified and have decades of experience in federal, state, and local law enforcement as well as traffic safety, roadway construction, and motor vehicle enforcement.
The Flagger course provides an overview of the profession along with learning of the proper procedures and reviewing of various work situations. Trainees will be able to:
Describe why proper flagging operations are important
List the abilities of a good Flagger
Use standard references as they pertain to Flagger control
Know proper flagging signals and procedures
Understand Flagger practices for various work zone situations
The course wraps up with a two-part exam that includes multiple-choice and demonstration portions. If the exam is passed, the new hire becomes an ATSSA-certified flagger. Recertification is required every four years.
What Makes a Good Flagger?
Flaggers need to be great communicators who are quick thinking and able to calmly handle any situation that could happen in their work zone. Here are five traits that make a good Flagger:
Flaggers can receive and communicate specific instructions clearly, firmly, and courteously.
They can move and maneuver quickly to avoid danger.
Flaggers can effectively control signaling devices and work zone equipment.
They understand and apply safe traffic control practices.
They have the ability to recognize dangerous situations and warn other workers.
A good Flagger will also understand the main components of a traffic control zone, and there are many—like the Advance Warning Area, Transition Area, Activity Area, and Termination Area.
They'll also follow the ABCs of Flagging: Advance Warning signs must be in place; Be visible and alert at all times; and Control traffic with proper procedures.
Last but not least, a good Flagger will always effectively manage their personal care items on the work site. Having enough water, using sunscreen and proper eyewear, and wearing protective work boots are all must DOs. Using cell phones, radios, and headphones are must DON'Ts.
Beyond Flagging 101
For those looking for career advancement in the traffic control services industry, many opportunities exist beyond a Flagger position. With the right experience and training, individuals can become a Traffic Control Technician, Crew Chief, Team Support Specialist, or Supervisor.
To learn more about the Traffic Plan Progress Institute, click here.
To learn more about current job openings at Traffic Plan, click here.