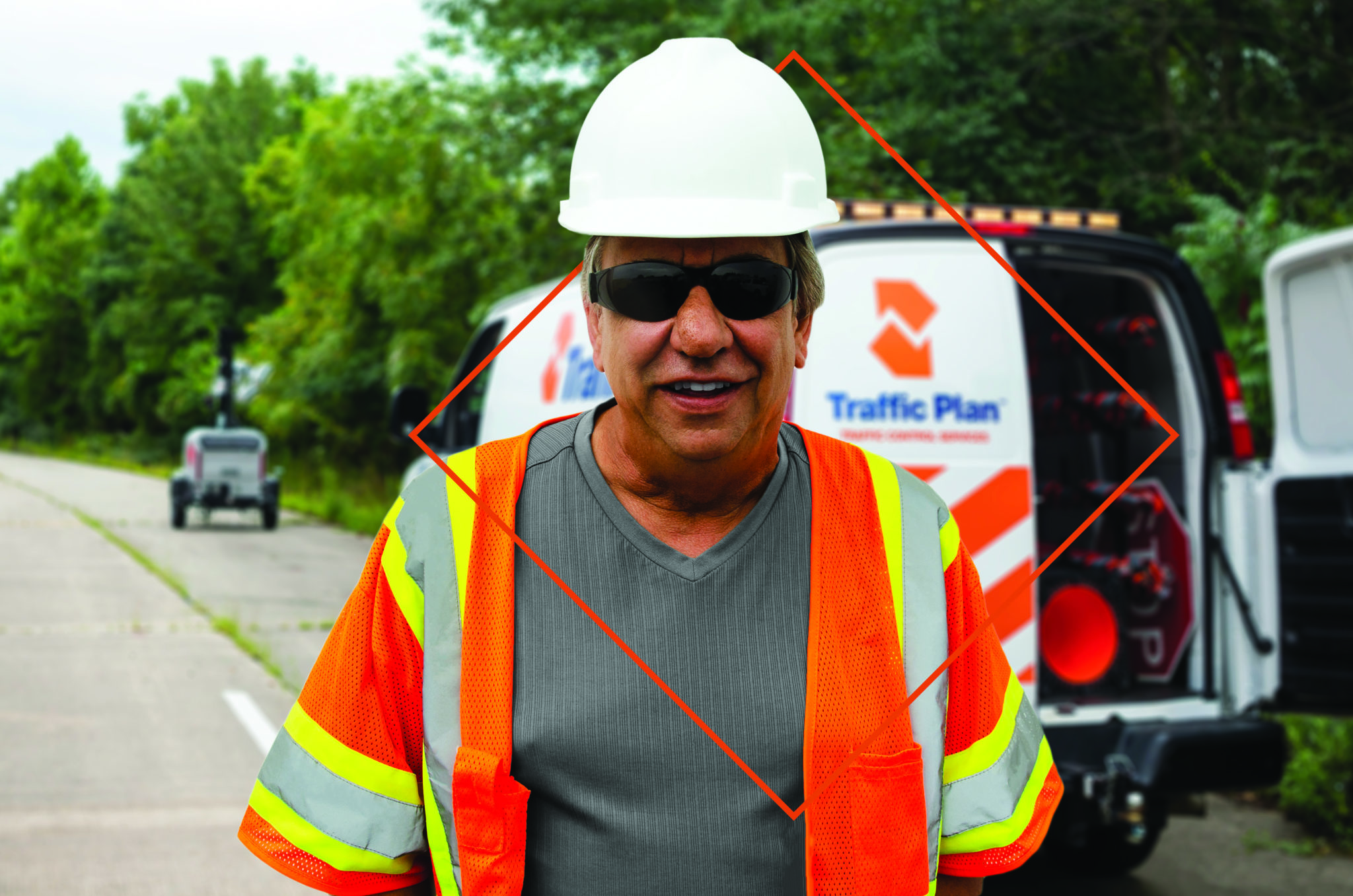 Dave is a five-year employee of Traffic Plan who celebrated his work anniversary in March. He's a Bethlehem native and currently resides in Allentown, Pennsylvania. Dave worked in the print and advertising business for 35 years before retiring from that profession. Today, we're happy to have him at Traffic Plan.
WHAT'S YOUR ROLE AT TRAFFIC PLAN?
I guess you could say I'm the "Yard Guy" at our Bethlehem office. I do general servicing of our equipment, and I also coordinate the setup and teardown of all our work zone signage in Pennsylvania.
WHAT MADE YOU WANT TO JOIN TRAFFIC PLAN?
I was retired for about a year, and there was a new sports arena—the PPL Center in downtown Allentown—under construction near my home. I noticed the flaggers stationed around the job site and thought that might be something I'd enjoy doing, since I was looking for a job that provided healthcare. Around that same time, Traffic Plan opened their Bethlehem office. I had a great interview with Ken Walker and Carolyn Kiely and decided to join the company as a flagger. Ken asked me in the interview if I had patience—which he now knows I have in spades.
WHAT HAS YOUR PROGRESS AT TRAFFIC PLAN LOOKED LIKE?
I was a flagger for eight months. I have much respect for the workers who take on that role every day! But I was curious to try another job, and the yard position became available at just the right time. So I started my new role and have been here ever since.
WHAT DO YOU ENJOY ABOUT YOUR JOB?
Using RapidPlan's program as a guide, I really enjoy setting up equipment prior to the start of a construction zone, and then picking up the equipment after the job is done. I also like taking care of minor maintenance on all the equipment.
WHERE DO YOU SEE YOURSELF AT TRAFFIC PLAN IN THE FUTURE?
I'm content with my current role. I'm 59 years old, and I enjoy my job 90 percent of the time. How many people can say that?
WHAT IS YOUR FAVORITE THING ABOUT TRAFFIC PLAN?
I really like the people. I'm particularly grateful for the friendship and guidance offered each day by Tom Craig, Mark Hickling, Sean Long, Jeff, John, and Morgan. They're not only my coworkers, they're my friends too.
WHAT'S THE BEST PART ABOUT YOUR POSITION?
The people!
WHAT DO YOU LIKE TO DO OUTSIDE OF WORK?
I currently help take care of my mother. But I also enjoy trying my luck at the casino and going to Lehigh Valley Iron-Pigs baseball games.
DO YOU HAVE ANY ADVICE FOR ANYONE WHO'S NEW TO THE TEAM?
Patience is a must. Another word of advice is to keep your mouth closed and watch others before you offer input or advice. Learn before you do.