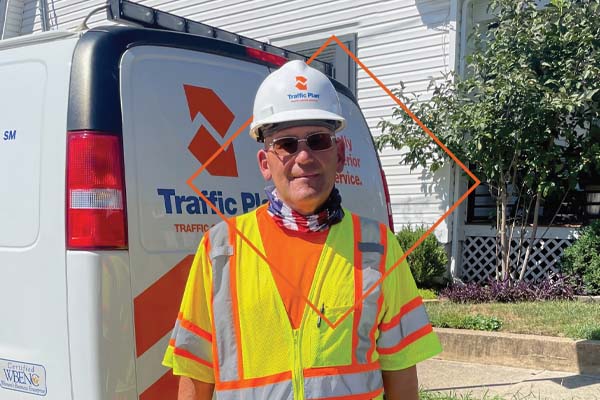 Crew Chief Charles Miller — or as most people call him, Chuck — began his career with Traffic Plan nearly two years ago at the opening of our location in Gainesville, Virginia. Even though he had little prior experience, he hit the ground running and earned his Virginia Intermediate Work Zone Certification in less than six months.
Chuck has a military background, which shines through in his exceptional leadership and discipline on the job site. He's dedicated to the safety of others and holds the utmost respect and loyalty for his position and fellow crew members — making him an awesome Traffic Plan team member!
HOW LONG HAVE YOU BEEN WITH TRAFFIC PLAN?
I've been with Traffic Plan for two and a half years. I'm currently a Crew Chief for the NOVA area.
WHAT MADE YOU WANT TO JOIN TRAFFIC PLAN?
I wanted to do something different outside of what I had done most of my work life, and Traffic Plan fit the bill.
WHAT HAS YOUR PROGRESSION AT TRAFFIC PLAN LOOKED LIKE?
I was hired as a flagger at the end of March 2019, and in June of that year, I was promoted to Crew Chief.
WHAT DO YOU LIKE MOST ABOUT BEING CREW CHIEF?
Helping our clients get their job done and seeing everything done smoothly and safely. And sometimes, at the end of the day, getting an "Atta boy" for the crew for a job well done.
WHAT IS YOUR FAVORITE THING ABOUT TRAFFIC PLAN?
The people and the job itself. It's just great to get out there and help people succeed in their jobs and positions.
WHERE DO YOU SEE YOURSELF AT TRAFFIC PLAN IN THE FUTURE?
I hope to be with Traffic Plan as long as they let me! I'm interested in the Team Support Specialist position for the NOVA office when it becomes available.
WHAT DO YOU LIKE TO DO OUTSIDE OF WORK?
Life outside of Traffic Plan is sometimes hectic. I have eight grandkids, and they keep me on my toes.  
WHAT DOES HOME LIFE LOOK LIKE FOR YOU?
I live in Locust Grove, Virginia. It's a small town outside Fredericksburg. Since my wife passed away last year from COVID, I live with my daughter, her husband, and two grandbabies.
ANY ADVICE FOR SOMEONE WHO'S NEW TO THE TEAM?
My advice is to keep your head up and learn as much as you can, because you never know when you might be asked to step up to the plate.