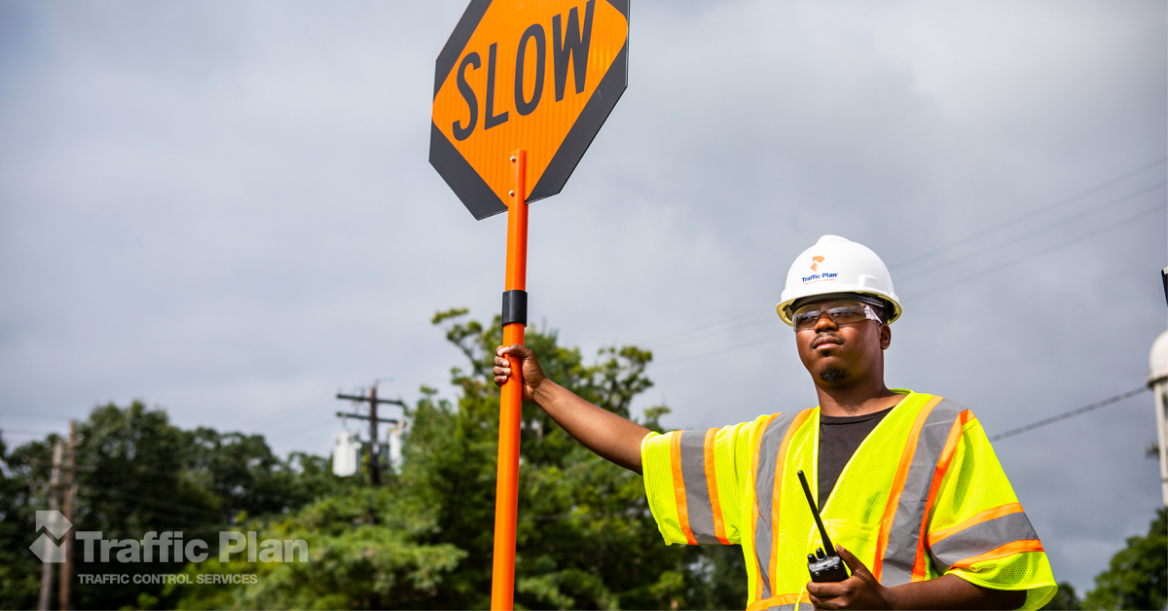 Flagger. It's the first thing many people think of when you mention traffic control. That's because a flagger is usually the most visible person in a work zone. With a fluorescent work vest, hard hat, and traffic paddle, a flagger's job is to get the attention of drivers and keep them safe as they travel in and out of a work zone.
Although a flagger is a very important part of traffic control, they are just one piece of a much bigger story.
Let's look at some of the other important aspects of traffic control services.
Training
For a worker who is new to the traffic control world, he or she will likely start out in a flagger role and complete important new-hire training such as ATSSA certification for Standard Basic Flagging.
But there are many other roles in traffic control beyond flagger that require other types of training. Some of the most common training includes TMA (truck-mounted attenuator) driving standards and nomenclature, Advanced Technician training, Advanced Crew Chief training, and Advanced Highway training.
State and Federal Guidelines
Traffic control services in the US are guided by many state and federal guidelines. Traffic Plan's service area in the Mid-Atlantic region requires our employees to have a thorough understanding of work zone state guidelines from PennDOT (Pennsylvania Department of Transportation), NJDOT (New Jersey Department of Transportation), and VDOT (Virginia Department of Transportation).
On a federal level, the Federal Highway Administration (FHWA) maintains the Manual on Uniform Traffic Control Devices for Streets and Highways — better known as MUTCD. It defines the national standards and guidelines that apply to all streets and highways open to public travel.
The MUTCD was established in 1971 and is updated periodically to reflect new safety technologies, traffic control tools, and traffic management techniques.
Services
If a state or local municipality has a simple roadway project, they may need only basic resources for a standard flagging operation. This would include signs, paddles, flaggers, cones, and a few other pieces of equipment.
Some projects may require an advanced traffic control and flagger package, while other projects may require an entirely different set of resources.
For example, a maintenance of traffic (MOT) site plan is a comprehensive end-to-end service that determines the best way to optimize traffic flow through a roadway project. It includes site evaluation, an engineered plan, and complete design and filing of the project.
Examples of other traffic control services that go beyond a standard flagger package include emergency 24/7 response — for utility emergencies, storm cleanup, or other emergency incidents — and pedestrian traffic management for things like sporting events, parades, and concerts.
Career Growth
The traffic control services industry has great jobs that often start with a flagger position but can grow into other career opportunities, including Traffic Control Technician, Crew Chief, Team Support Specialist, Supervisor, or Yard Supervisor.
Traffic Plan is dedicated to training and developing all of the employees we hire, so each worker is set up for success the minute they walk through our door. We offer many career growth opportunities, and our Progress Training Institute provides the necessary training to be the absolute best at any role within our organization.
Customer Safety
There is a whole other side to traffic control services that not all traffic control companies have. That's customer safety and training.
As a partner in progress, Traffic Plan offers training to our customers and other companies that are looking to educate their own workforce on the value of work zone traffic control and safety.
We offer on-site and in-house training for topics like general safety, highway safety, Crew Chief training, and more. Many of the customers we work with include utility companies and municipalities. Together, we make sure their work zones are safe for themselves and the traveling public.
As you can see, flaggers are but one crucial piece of the bigger picture of traffic control. Traffic Plan is proud to provide the full range of traffic control services and training necessary to ensure the safety of our customers' work zones and the progress of our communities.